Apply for a Library Card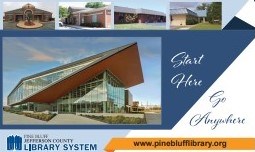 Adult Library Card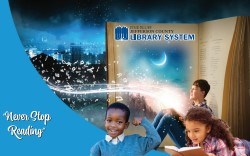 Youth Library Card
All applications for library cards must be presented in person and must be accompanied by a photo I.D. (driver's license, state I.D., employment I.D., passport, consular card, foreign I.D., etc.) and proof of current residence.  Application forms must be completed in full.  Accounts will be updated annually by presenting current I.D. to verify continued residence. If the photo I.D. does not include the current address, one of the following may be used (together with photo I.D.) to verify residency: recent utility bill (electric, gas, water, cable T.V., etc.), lease, mortgage document, other recent canceled mail, etc.
Who can get a library card?
First-time library cards will be issued free of charge to the following people: 
Business/Organizations
Temporary Resident
Must be 16 years of age or older.
Individuals younger than 16 must have a parent or legal guardian to complete the application process.
Must live within the boundaries of Jefferson County, AR. (ie. Pine Bluff, White Hall, Altheimer, Redfield, etc.)
Must have property or own a registered business within the boundaries of Jefferson County, AR.
Must have primary ID: Arkansas Driver's License or Arkansas ID card.
If under the age of 16, parent(s) or legal guardian(s) is/are willing to take full responsibility for the card.
Business/Organization Accounts:
Businesses or established organizations in Jefferson County are eligible for library cards. The business owner or designee must provide a letter on business letterhead listing individuals who are eligible to use the business cards. This list must be updated annually. The business or organization will be held responsible for all materials checked out on its cards and for its cardholders' adherence to library policies. 
Temporary Resident Accounts
Individuals living temporarily in Jefferson County (such as for medical treatments, temporary employment, etc.) may be issued cards on presentation of a photo I.D. and verification of their temporary residency status. Employment contracts, doctor's statements, etc., may serve as verification of status. Temporary cards will be active for 4 months from the date of issue and may be renewed for an additional 4 months with proof of continuing temporary residence status.
Gateway Program
Pine Bluff/Jefferson Co. Library System cardholders in good standing may be issued a Gateway card, allowing them to check out physical materials from other libraries in the state that participate in the Gateway Program. Database access is at the discretion of the vendor.
Non-resident or Visitor
Individuals from other states, countries, or counties within Arkansas are welcome to use library materials, public computers, and other on-site services in all library facilities. Those who wish to check out materials from the Pine Bluff/Jefferson Co. Library System may purchase a Non-Resident Card for $25 annually. This card allows users to check out no more than 6 items at any given time. 
How can I apply for a Library Card?
You can apply for a Library Card through our Online Borrower Registration in the top left corner of the page.  Click Link [Registration].
Fill out an application at any of our libraries [ Library Hours & Locations ]
What can I do with my Library Card?
Check out library materials such as books and DVDs

Request an item to be shipped to your local library

Track your reading history

Pay fines online

Create your own booklists

Suspend or freeze your hold on an item

Download and stream ebooks and music

Reserve computer time for internet access and print jobs

Access our databases, online newspapers, business directories, and other specialized content.
Fees
A replacement Library Card costs $4.  The person must be in the integrated library system with no fines or fees owed to get a replacement card.
600 South Main St
Pine Bluff, AR 71601